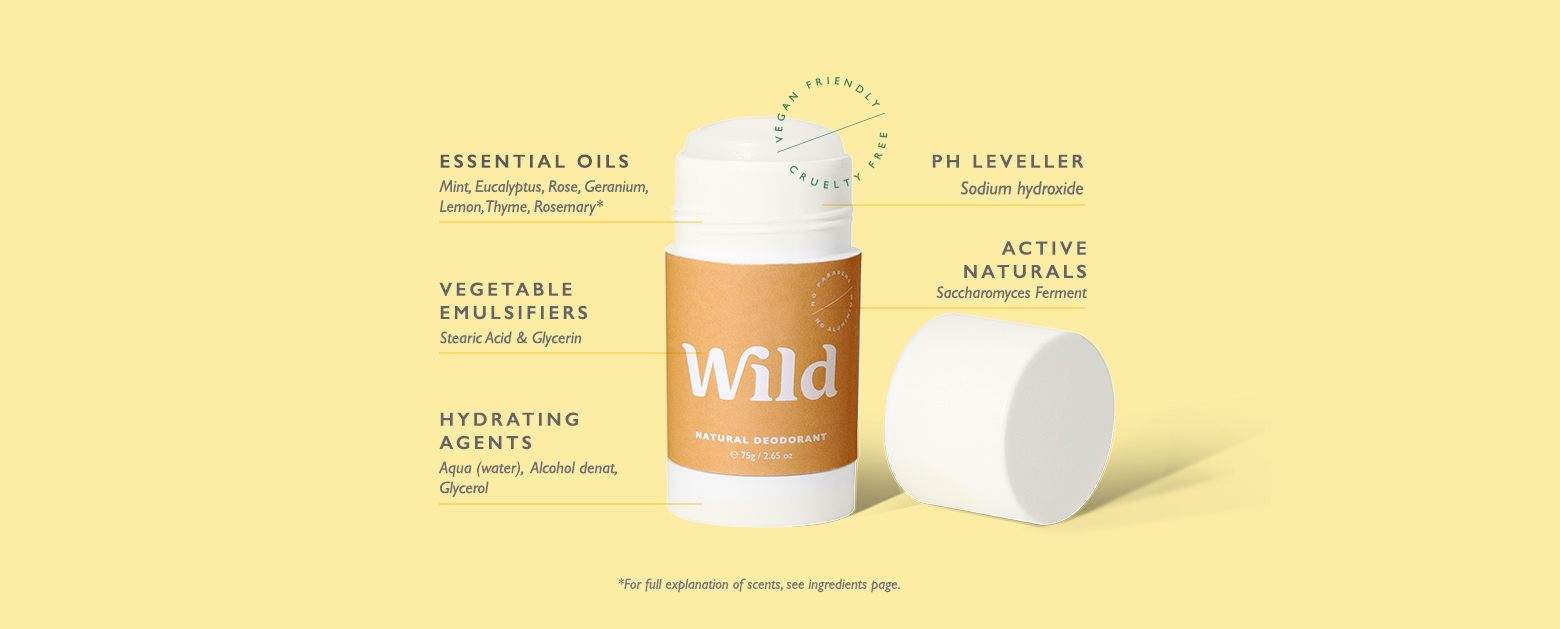 Eucalyptus globulus Leaf Oil
Anti-inflammatory: reduces inflammation on the skin. Antiseptic: heals wounds from acne, psoriasis, or eczema. Antibacterial: kills off a bacterial infection thereby preventing inflammation.

Mentha piperita (Peppermint) Oil
Peppermint leaves contain several essential oils including menthol, menthone and limonene. Menthol gives peppermint its cooling properties and recognizably minty scent.
Also called pantothenol, Di penthenol is the alcoholanalog of pantothenic acid (vitamin B5), and is thus a provitamin of B5  used as a moisturiser in our Deodorants. It helps to keep skin soft, smooth, and healthy. Deeply hydrating, it keeps skin quenched by absorbing moisture from the air

Pelargonium Roseum Leaf Oil
Rose Geranium essential oil is a fresh floral and sweet smelling oil which is used in skin care products for both its fragrance, and cleansing properties

Citrus medica limonum (Lemon) Peel Oil
Lemon essential oil is astringent, antibacterial, refreshing and a skin tonic.
Thymus vulgaris (Thyme) Oil
Thyme is derived from thyme (Thymus vulgaris), a perennial herb that belongs to the mint family. Due to thyme oil's antibacterial, antispasmodic, antirheumatic, expectorant, hypertensive and calming properties, it has a long list of uses.

Hamamelis Viginiana Witchhazel
Most often applied to the skin and scalp, witch hazel is widely known for its ability to ease inflammation and soothe sensitive skin
Vegetable Emulsifier (Stearic Acid & Glycerin)
This is particularly useful in counteracting dryness as it helps to seal moisture onto the skin.

Good old H2O. Acts as a carrier for active ingredients.
Plant based Humectant, absorbs moisture from the atmosphere to help hydrate the skin.
Used in very small quantity to help kill bacteria  and ensure ease of application.

This is a white, waxy, opaque, odourless crystalconsisting of sodium ions and hydroxide ions. It is also known as lye and used in natural soap-making.

This ingredient is a water-like substance made from fermenting and filtering yeast. It is naturally high in minerals, amino acids, beta glucan, and vitamins.
This is a plant-derived amino acid used as a preservative, emulsifier, binder and thickener in beauty products. It's a water-soluble polymer that provides colloid protection and can be thickened or thinned to be used in a variety of products.